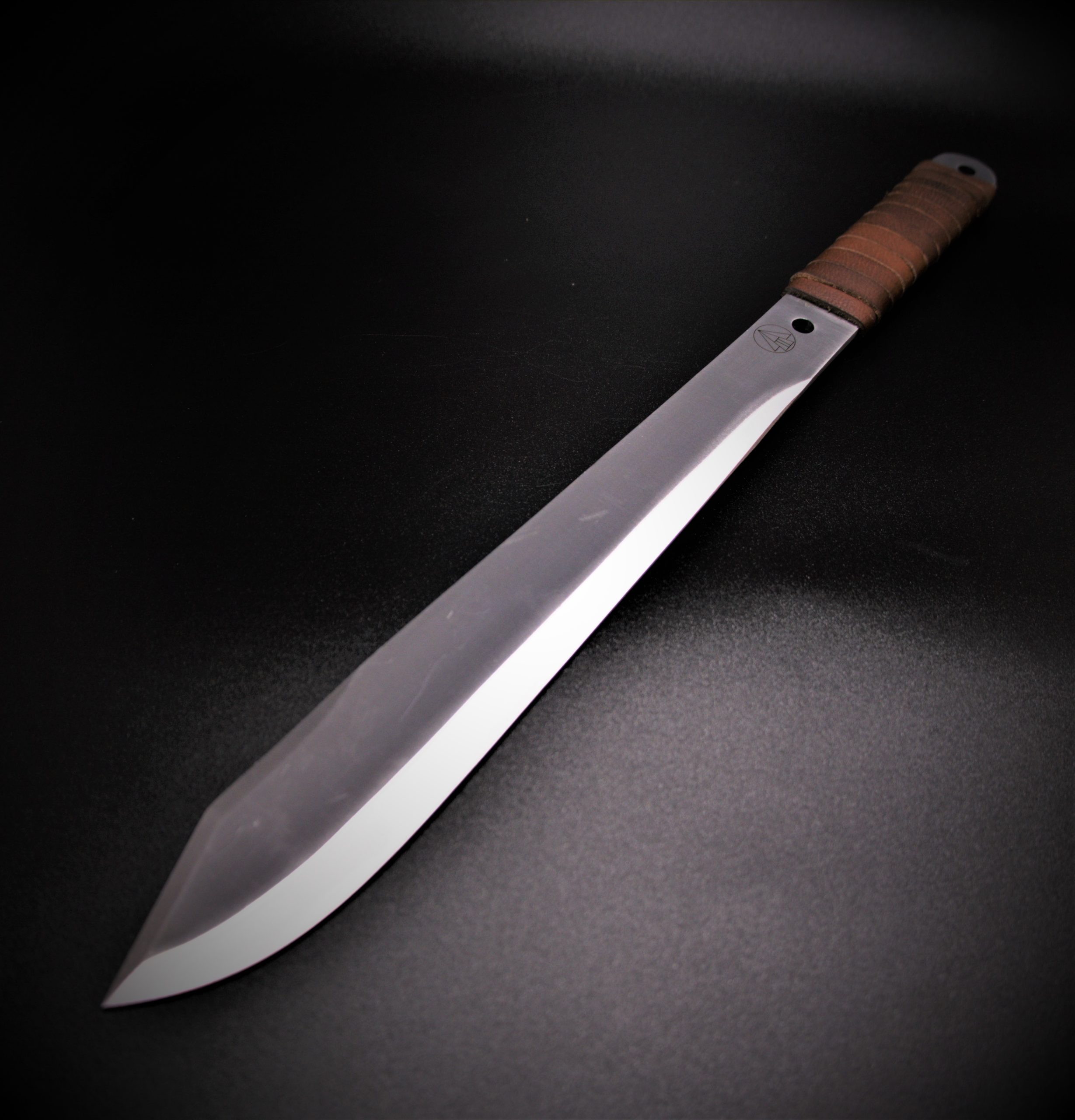 The Seme aka "The Lion Sword", is the go-to EDC knife of The Maasai People (Plains of Kenya/Tanzania/South Sudan) . They use it for Everything from:
*Clearing brush
*Butchering Cattle
*Peeling Fruit
*Self-Defense
*Etc.
We first handled a Seme when we got one as a gift from someone we trained, before they went to do Mission Work. We were immediately impressed. Made from Scrap Metal, and Melted Down Soup Cans, held together with Goatskin, and Sinew. In spite of this, it was a great blade:
*Well Enough Balanced for throwing
*Light Enough to use all day
*Small Enough to carry on your belt or in your backpack
*Big Enough for Good Leverage, and Chopping/Hacking
*Fast Enough… should you need it to be.
A testament to the ingenuity and tenacity of people making the best tool they could, with what they had. It is the accumulation of 100's of years of R n' D.
Things that were Great:
*Well Balanced due to Tapered Shape
*Manageable Length (~18.5")
*Symmetrical Handle
Overview of Upgrades:
*Differential Hardened 1095 Spring/Tool Steel
*Thickness increased to 3/16" / 5mm
*Bowie Style Belly
*Added Breaking Wedge
*Added Lanyard / Lashing Holes
*Added Leather Wrapped Handle
*Differentially Hardened 1095 Spring/Tool Steel, and the blade thickness increased by ~50%. This makes it a tougher, and more durable tool. It will better stand up to the field use and abuse. This includes "Batoning" style use, a common technique for wood processing.
It holds and edge well, and is easy to sharpen in the field 1095 is the same steel "Cold Steel" uses in their Mizutori Katana and Wakazashi.
*Bowie Style Belly glides through material better than the original. It is also much better suited for Skinning and Game Processing| From a fighting standpoint it facilitates to the use of the "Back-Cut".
*Added a Breaking Wedge on the back side of the business end. Used for breaking bones when you are processing Game, or Breaking Rocks etc. This lets to you save the edge. The Symmetrical Point makes the blade well used for sticking when thrown.
*Lanyard / Lashing Holes let you make an impromptu spear for hunting and fishing. You can also use it as a lanyard, allowing for a looser grip, letting the tool work when hacking and chopping. Also if you are working at heights, or near open water.
*Leather Wrapped Handles are comfortable. A tip of the hat to one of the most (In)Famous and Proven designs in the world, the USMC Ka-Bar, first issued Dec 9, 1942.
Smooth enough not to wreck you hands during extended periods of use. It fills the hand, and has the right amount of give for a good grip.
First, a tribute to the region (Kenya and Tanzania) and the people (Maasia) the general design comes from.
Second, it pays homage the (Jim) Bowie Belly, on a Longer, Slimmer, Faster, Profile. "Slim Jim".
Finally, a Tip of The Hat to one of the most Respected Knife Makers in the Game, Tracker Dan, and his "Jungle Slim".